I have recently added these to my collection. A set of stamps issued for the rebuilding of All Hallows By The Tower church; at least I hope they are a set.
All Hallows lies within sight of the Tower of London, and is said to have been founded in 675 (making it perhaps the oldest in London) by the Anglo-Saxon Abbey at Barking and was for many years named after the abbey, as All Hallows Barking - hence the Berkyngechirche reference on two of the stamps. I presume that is the old name corrupted or simplified to Barking.
It has quite a history. It was built on the foundations of a previous Roman structure. Thomas More was buried there after his execution at the Tower, and heads from other executions were rested here before burial. In 1650 it was damaged and the tower destroyed when a barrel of gunpowder exploded in the churchyard (no explanation for its preence there). There were many fatalities. It escaped the Great Fire when Admiral Penn (father of William Penn of Pennsylvania fame) ordered the destruction of several houses to create a firebreak. Christopher Wren watched the fire spread from the rebuilt tower. There is a local connection for me, in that Judge Jeffreys, the notorious Hanging Judge of the Monmouth Revolution, was married in the church. He later lived in Wrexham at Acton Hall, the grounds of which are now my local park. In 1915 it became the Guild Church of Toc H, an organisation offering returning soldiers an alternative to the debauchery of the city. The HQ was at Talbot House, which features on one of the stamps.
But in 1940 it was gutted during a bombing raid, and after the war a rebuilding fund was started. These stamps were part of the campaign. They are a quality production (though one of them is a bit damaged) said to recess-printed by Bradbury, Wilkinson & Co. Ltd. The date of issue with this bit of information said 1954, but the info with mine say 1946. I am inclined towards 1946, as the other date seems too close to the completion of the rebuilding in 1957.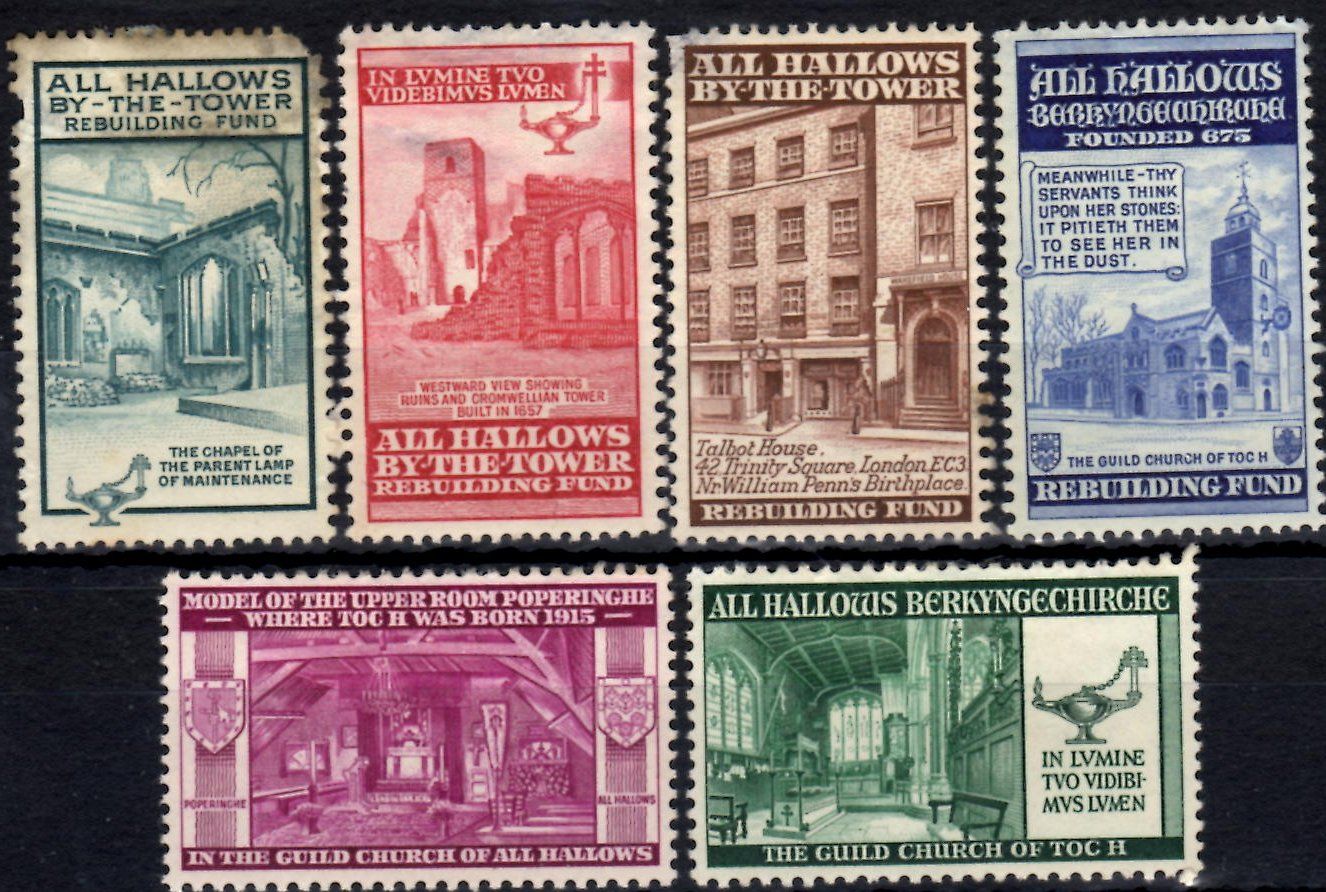 Looking at these again, it is more than possible that they are from two different sets, linked by the church. The four portrait stamps issued for the rebuilding fund, and the landscape stamps for Toc H. The fund stamps are perfed 13 while the Toc H are perfed 11.5.